Linux News Today: Canonical's Ubuntu Web Browser Is Getting Much Better for Desktop Users
Apart from its OS plans, Canonical is also working on a new Internet browser named the Ubuntu browser, and they've just pushed a number of important changes and improvements this past week.
The Ubuntu browser started life as the obvious choice for the mobile platform. Nothing that existed at the time they started to work on Ubuntu Touch fit what they needed, and you can't really have a new mobile operating system without a web browser. They shipped the stable version of Ubuntu Touch without a lot of features, but they did have a working web browser.
The Ubuntu web browser is built on WebKit, so it's pretty versatile, but it's different from what you might find in other similar applications. After it made its debut on Ubuntu Touch, where it is good enough for users not to mention it too often, it sort of became the poster boy for convergences, along with a few other components. As it turns out, the version that you can find on the mobile phones uses the same code as the version available for desktop users, and that's something interesting.
Ubuntu web browser is becoming a real contender
It's still too early to consider the Ubuntu web browser a contender for the likes of Google Chrome or Firefox, but it's getting there. A fresh batch of new features has just landed, and it includes novelties like an improved UI with tabs, text selection, and many others.
You can check the video below, made by Popescu Sorin, to see all the new features that have been implemented. It's also interesting to note that the browser is also passing the Acid3 test with flying colors.
So, what's happening with the default Firefox browser in Ubuntu, you might ask? Well, it's staying put for the foreseeable future. The Ubuntu browser is not ready to become official, but that might change when the new Unity 8 desktop gets released as stable for desktops.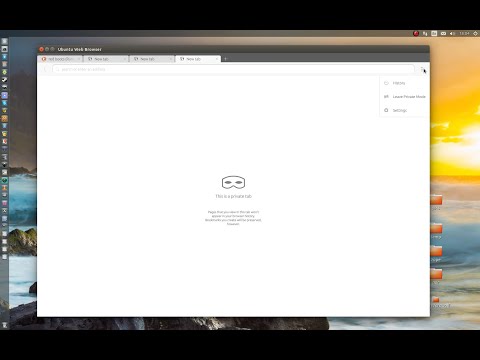 Play Video
Via Softpedia