Linux News Today: Debian-Based Robolinux 8.3 Distro Removes Popcorn Time, Adds 10 New Apps – Video
The developers of the Debian-based Robolinux computer operating system have announced the release of Robolinux 8.3 (Raptor) Cinnamon, MATE, Xfce, and LXDE editions, as well as the Robolinux Multimedia Bonanza.
According to the Robolinux developers, during the last few weeks, the team has run a poll to get the user pulse about the missing applications from the Robolinux Raptor distribution. Therefore, today they are proud to introduce ten of the most requested applications by Robolinux users in the newly released Robolinux 8.3 "Raptor" computer operating system.
"As the Christmas and holiday season was approaching Robolinux polled its user base extensively asking, 'What hot new apps do you want in Robolinux Cinnamon, Mate, Xfce & LXDE Raptors?'" said the Robolinux developers. "An overwhelming number of users responded with "We want more multimedia and privacy apps in Robolinux" […]  So we listened carefully and delivered just in time for Christmas."
Robolinux Multimedia Bonanza 8.3
Robolinux Multimedia Bonanza 8.3 brings the Spotify music streaming client, OpenShot video editor, gThumb image viewer, Pinta image editor and drawing app, Blender 3D modeller and renderer, Photo Filmstrip movie maker, Scribus desktop publishing software, Privoxy web proxy and Internet filter, Wireshark network scanner and analyzer, as well as the specto update notification program.
As a bonus, the Robolinux devs has also added some extra Wi-Fi and printer drivers, along with all the security updates from the upstream Debian repositories. All existing Robolinux 8 Raptor users can upgrade to the new 8.3 release with a single click of a mouse, using the built-in Robolinux Auto Upgrade button in the Applications menu.
On the other hand, those of you who are installing Robolinux for the first time can download the Robolinux 8.3 Cinnamon and MATE, Robolinux 8.3 LXDE, and Robolinux 8.3 Xfce editions right now from Softpedia. They are all available as Live ISO images for both 64-bit (x86_64) and 32-bit (x86) hardware architectures.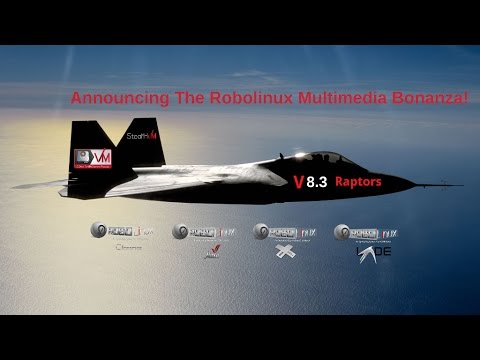 Play Video
Via Softpedia