Linux News Today: Divinity: Original Sin Enhanced Edition Officially Released for SteamOS, Linux and Mac
Today, December 23, Larian Studios had the great pleasure of announcing the general availability of the Divinity: Original Sin Enhanced Edition game for the SteamOS, Linux and Mac OS X operating systems.
If you are a Linux or Mac gamer, and you've been waiting impatiently to play one of the best new RPG (role-playing game) titles released in the last year, today is you're lucky day, as the guys and gals over Larian Studios have decided to give you the best Christmas (holiday) present there is.
With over 150 GOTY (Game of the Year) awards and nominations, Divinity: Original Sin Enhanced Edition comes today to the Linux and Mac platforms with a revised story, full controller support (including Steam Controller), dynamic split screen, new game modes (classic, tactician, honour), and 360 degrees camera rotation.
"Have you been waiting, controller in hand, to dive into Rivellon on your Steam Box? Well, now you can! As of today, Divinity: Original Sin – Enhanced Edition is available for Mac, Linux, and SteamOS, opening up the world of Rivellon to a new wave of Source Hunters," said Larian Studios in today's announcement.
Supports 4K resolutions
Among other awesome features implemented by Larian Studios developers into Divinity: Original Sin Enhanced Edition, we can mention support for up to 4K resolutions, an all-new crafting system, a brand-new skill system that includes more spells and skills than ever, as well as new encounters and quests.
Offering you over 100 hours of gameplay, Divinity: Original Sin Enhanced Edition also comes with new traps and puzzles, grenades, wands, dual wielding with and without wands, tactical turn-based combat, a massive interactive environment, pen-and-paper-like freedom, and unrivalled co-op multiplayer.
Best of all, Divinity: Original Sin Enhanced Edition is now on sale, thanks to Valve's Steam Winter Sale, so you can get your hands on this amazing RPG title for only 26,79€ ($26,79) and dive into Rivellon. With this occasion, Larian Studios also updated the Windows version of the game to be in sync with the Linux and Mac builds.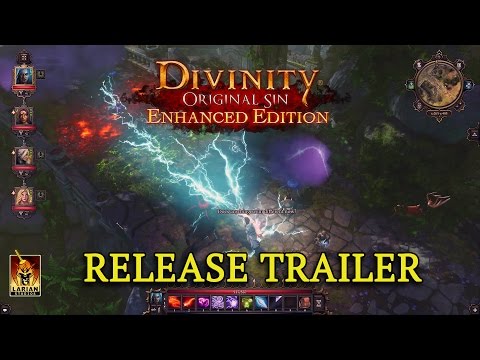 Play Video
Via Softpedia