Linux News Today: Introducing the LibreOffice Online App for ownCloud – Video
While digging through the Internet, we've discovered that there's now a LibreOffice application for the ownCloud open-source self-hosting cloud server, which lets users edit all sorts of LibreOffice documents online.
Built on top of the LibreOnline project and developed by members of the Collabora company, which is known for selling an enterprise-ready version of the LibreOffice open-source office suite, the LibreOffice Online app is now ready to be deployed on production-ready ownCloud infrastructures.
If you're already wondering how the LibreOffice Online app for ownCloud can help you be more productive, as well as grow your small business, we can tell you that once installed (see instructions below) on your ownCloud server, you will be able to continue editing LibreOffice documents on the go via any web browser, from any computer.
At the moment, LibreOffice Online supports many file formats, including but not limited to DOC, DOCX, ODT, PPT, and XLS file formats. However, please note that there's currently an issue with the opening of .ODT documents, so you'll need to first disable the Documents app on your ownCloud server, and then access the files.
Here's how to install LibreOffice Online app on your ownCloud server
If you want to install the LibreOffice Online app on your ownCloud server, we can tell you that all you need to is to build the LibreOffice Online project following these instructions, then run loolwsd, and clone the libreonline-owncloud GitHub repository to your ownCloud applications folder.
Furthermore, you must move the loleaflet folder to ./owncloud/apps/libreonline/ (creating a symlink works too), edit the LOOLWSD_IP variable from the ./owncloud/apps/libreonline/templates/online.php file if you're planning on running loolwsd on a different ownCloud server, then go to ownCloud Apps and activate LibreOnline.
In the video below, you can see how easy it is to continue editing your LibreOffice documents created on your Linux, Mac OS X or Windows desktop to the ownCloud server, online, via any modern web browser. Enjoy!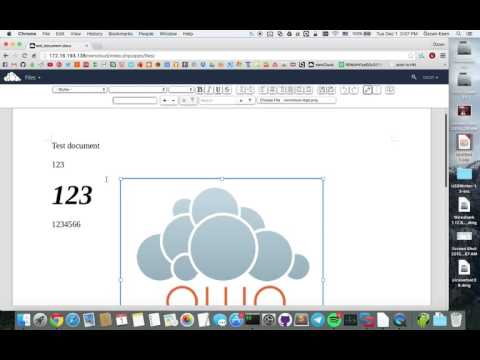 Play Video
Via Softpedia