Linux News Today: Introducing Ubuntu Pi Flavour Maker, a Tool to Port Ubuntu Linux for Raspberry Pi 2
We've just been informed by Martin Wimpress, the main developer and leader of Ubuntu MATE, about the general availability of a spin off project from Ubuntu MATE, called Ubuntu Pi Flavour Maker.
As its name might suggest, Ubuntu Pi Flavour Maker is an open source tool, a shell script that lets anyone to port any of the official or unofficial Ubuntu Linux flavors for the Raspberry Pi 2 single-board computer (SBC).
Ubuntu Pi Flavour Maker is officially supported on the Ubuntu, Ubuntu MATE, Kubuntu, Lubuntu, Xubuntu and Ubuntu GNOME flavors, and uses the traditional apt and dpkg package management systems from Debian GNU/Linux.
The script is not compatible with the first-generation Raspberry Pi devices, it is not based on the next-gen Ubuntu Snappy technologies, and it does not support distribution release upgrades.
"Ubuntu Pi Flavour Maker is a spin-off from the Raspberry Pi 2 initiative for Ubuntu MATE The basic idea is simple; make as many Ubuntu flavours for the Raspberry Pi 2 we can. Ubuntu Pi Flavour Maker is few shell scripts and a PPA," said Mr. Wimpress.
Images are built from the standard Ubuntu ARMhf base
Another important thing to mention is that the images built with the Ubuntu Pi Flavour Maker tool are based on the regular Ubuntu ARMhf base. Also, you should use Class 6 or Class 10 microSDHC cards of over 4GB in size for deploying your flavors.
Ubuntu Pi Flavour Maker will make sure that Raspberry Pi 2's GPIO, SPI, I2C, and other hardware devices are accessible, and will optimize the images for performance thanks to the inclusion of replacements for the memset and memcpy functionality.
We recommend visiting the project's website for more details, as well as to take a look at the video below where you can see Mr. Martin Wimpress introducing Ubuntu Pi Flavour Maker to the world.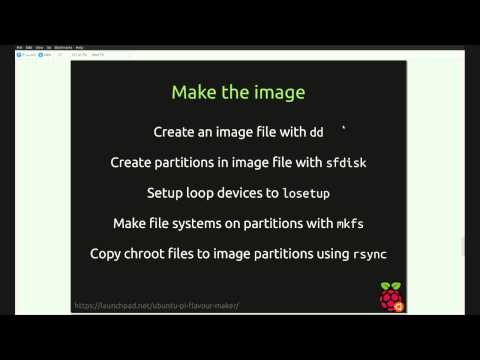 Play Video
Via Softpedia