Linux News Today: Kodi 16.0 to Ship with Multi-Touch Support for Linux
The new Kodi 16.0 Alpha 4 has been released today by its developers and it looks like things are progressing nicely on all fronts.
Just a couple of weeks ago a new stable version of Kodi was released, 15.2, but now the developers are preparing to move over to a new branch. As you can imagine, they are not making the change from one version to another just for show, and they are implementing a lot of new features.
Kodi has been getting better with each new update and, from the looks of it, the upcoming 16.0 version promises to be just as interesting as the previous one. This is still just an Alpha version, and it will take a while until more stable releases are made, but it's worth keeping an eye on it.
Kodi 16.0 Alpha 4 is here and ready for testing
As usual, users should be wary of upgrading to development version since this can cause a problem with the add-ons.
"After four months of alpha versions we are gearing up for changing to the beta stage and working towards a final Kodi 16 release. The past four months the developers worked hard behind the scenes on further improving what is already a great piece of software. Lot's of code clean-up and improving stability, with a dash of features added here and there," wrote the developers in the official announcement.
According to the changelog, the Karaoke module has been removed, the old implementation for audio and video provided by libstagefright has been removed, the add-on manager has been improved, the playback of VP9 and VC1 video codecs on Android has been improved, multi-touch support for the Linux platform has been added, and a number of other changes have been made as well.
You can download Kodi 16.0 Alpha 4 right now from Softpedia and give it a try, but please keep in mind that it should not be installed on productions machines.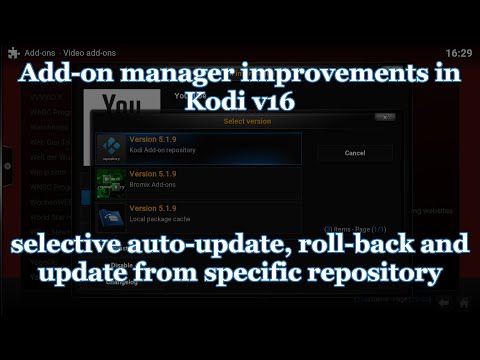 Play Video
Via Softpedia