Linux News Today: Meizu MX4 Ubuntu Edition Beats Nexus 4 and Sony Xperia Z2 with Android 5.1.1 in Fish Tank Test
We have been informed that Szymon Waliczek, an Ubuntu Touch insider, just did a comparison between five smartphones using the Fish Tank test, including two of the Ubuntu Phones, two Android phones, as well as an Android phone running Ubuntu.
The developer was kind enough to post on his Google+ page both a nice, 20-second long video and a few photos of the comparison between the Android- and Ubuntu Touch-powered devices running the well-known Fish Tank test in the default web browser software of each device.
The smartphone devices used in the test are, from left to right, Aquaris E4.5 Ubuntu Edition, Meizu MX4 Ubuntu Edition, Nexus 4 running Ubuntu Touch, Nexus 4 running Android 5.1.1, and Sony Xperia Z2 running Android 5.1.1.
As you can see from the video attached at the end of the article, the Meizu MX4 Ubuntu Edition wins this round, followed closely by Aquaris E4.5 Ubuntu Edition, having ~25 FPS and ~15 FPS respectively.
On the third place, we can see the Sony Xperia Z2 smartphone running Android 5.1.1 with only ~7 FPS. Despite running Ubuntu Touch, the Nexus 4 device fails with only 5 FPS. The Android version of Nexus 4 also shows 5 FPS on the Fish Tank test.
A few words about Szymon Waliczek
Some of you might know Szymon Waliczek from the Ubuntu Touch Manager project, a graphical software that allowed Ubuntu Phone users to send and receive files from their devices, as well as to take screenshots of the Ubuntu Touch's Unity user interface.
Being one of the first people to own an Ubuntu Phone, I was very interested in the Ubuntu Touch Manager software, which I ported to the Arch Linux's AUR repository. Unfortunately, the app is no longer under development because Ubuntu SDK includes all of its functionality.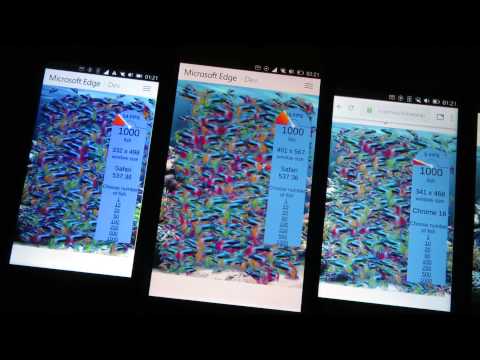 Play Video
Via Softpedia