Linux News Today: Official Raspberry Pi Touch Display Released at $60
The Raspberry Pi has all kinds of cool modules and various third-party components, but now it can also boast with a nice and official touch display developed by the same team.
The new touch display for Raspberry Pi is developed by the same team who built the mini-PC itself, and it's been in the works for the past three years. It took them a long time because they always had other more important projects to take care of, but they finally got enough time to finish the project.
The developers from the Raspberry Pi Foundation also released a nice 5MP camera module only a month ago, and they seem to be a roll. A touch screen is a very useful tool and it can be integrated into a number of ways. The default setup is very easy to assemble, and it's easy to see why it would be a nice gadget to have, even for simple entertainment purposes.
The Raspberry Pi touch display is not a big one
Don't expect to see a monster of a display for the Raspberry Pi. That's not really what the developers had in mind when they were designing it.
"You've been incredibly patient: thank you. The official Raspberry Pi touch display is on sale today, priced at $60 (plus local taxes and shipping): you can buy it at the Swag Store, at RS Components/Allied Electronics and at Premier Farnell/Newark. Other sellers will be receiving stock later this week," said Gordon Hollingworth, the Director of Software for the Raspberry Pi Foundation.
As it stands right now, the new touch display supports a resolution of RGB 800×480 @60fps, 24-bit color, has an FT5406 10 point capacitive touchscreen and 70-degree viewing angle. Also, the metal-backed display comes with specially designed mounting holes for the Pi.
From what the developers have said, connecting the monitor to the Raspberry Pi is a breeze, and anyone should be able to do it.
Enjoy!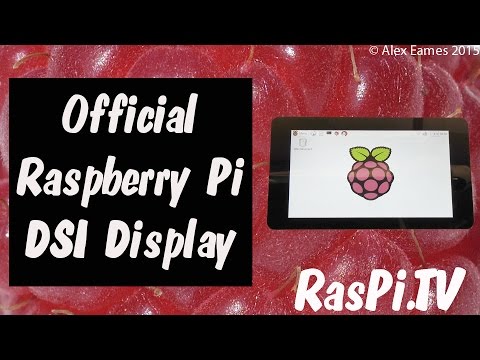 Play Video
Via Softpedia