Linux News Today: ownCloud and Collabora Announce LibreOffice Online for ownCloud Server
Today, December 15, ownCloud, Inc. and Collabora have just announced a partnership to bring a new tool for LibreOffice and ownCloud users, based on the LibreOffice Online project and the robust, open-source ownCloud Server self-hosting cloud storage solution.
The two companies have been proud to announce the first preview of CODE (Collabora Online Development Edition), a tool designed to offer users a virtual machine containing the LibreOffice Online and ownCloud Server project, allowing them to edit office documents, such as word, spreadsheets, and presentations via the web-based interface of ownCloud.
This is not the first time we hear about LibreOffice Online for ownCloud, as we reported a few weeks ago that a group of independent developers were working on a so-called LibreOnline project. This was a version of LibreOffice Online transformed into an app that could be installed on the ownCloud server, but not as polished and mature as CODE.
We talked with Jos Poortvliet, ownCloud Community Manager, who exclusively told Softpedia that Collabora hired the team of developers behind the LibreOnline project to add more features to it and deploy LibreOffice Online for ownCloud on a mass scale. As such, we found out that the LibreOnline tool might soon disappear now that CODE was released.
"LibreOffice Online is what the name suggests – an online version of the well known LibreOffice suite of productivity apps. 'Collabora and LibreOffice Online' integrated into ownCloud Server brings these powerful productivity features to ownCloud users. No other cloud technology offers the quality of rendering LibreOffice brings to the browser and this development edition already offers a wide range of features, with more to come," said the Collabora representatives.
Highlights of Collabora's LibreOffice Online for ownCloud
The current state of the LibreOffice Online project comes up with a quite simple user interface, but the Collabora have developers managed to add more useful features to it, integrating its technologies into ownCloud's web-based user interface. As this is a development preview of LibreOffice Online for ownCloud, Collabora promises to implement even more attractive functionalities to it in the near feature.
LibreOffice Online's rendering capabilities are on par with the desktop version of the open-source and cross-platform office suite, which means that the documents edited on the LibreOffice desktop client will look the same when viewed online via the LibreOffice Online for ownCloud application. It supports all the common elements embedded in the documents, including images, graphics, text styles, tables, and word-art.
The main difference between LibreOffice Online and other offerings that are available on the market is that the former uses the same rendering engine for displaying documents online, which means that, practically, users won't notice any changes in their documents when they continue their work online or vice-versa.
ownCloud users interested in trying out Collabora's LibreOffice Online Development Edition can grab a copy right now from the company's website, but you can also install LibreOffice Online on your ownCloud Server if you follow the instructions provided by the project's developers in the "Collabora and LibreOffice Online" GitHub repository.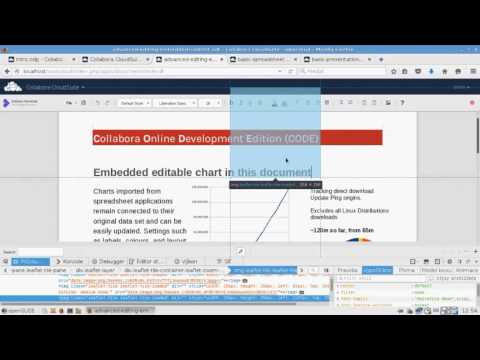 Play Video
Via Softpedia