Linux News Today: Third Alpha Build of Kodi 16 Media Center Adds Long-Press Support for Remotes
The Kodi development team, through Nathan Betzen, announced today, October 3, the release and immediate availability for download and testing of the third Alpha build of the upcoming Kodi 16 open-source and cross-platform media center software.
The biggest new feature implemented in Kodi 16 Alpha 3 is the implementation of long-press support for remotes. What this means is that you will now be able to long press on a button on your TV's remote control to open extra content, such as context menus with additional information about an item (watch the video below to see it in action).
"Development never ceases on Kodi, and so we're delighted to present the 3rd alpha for Kodi 16 with features and fixes galore," says Nathan Betzen. "More and more hardware companies are coming out with remote controls with a very limited button set. In particular, all current Android TVs are lacking a dedicated context menu button altogether."
Xcode 7 support comes to Kodi
In addition to the long-press support for remotes, Kodi 16 Alpha 3 introduces a three-finger touchpad mapping for Apple's iOS mobile operating system, which is extremely useful for users who interact with Kodi using tablet devices. The upcoming fourth Alpha build of Kodi 16 will add some extra tablet gestures too.
Moreover, there's now support for the new Xcode 7 IDE (Integrated Development Environment), support for new stereoscopic depth effects, which are useful for users of VR headsets and 3D TVs, and Kodi 16 Alpha 3 brings the unification of the Files View and Music Library.
Download Kodi 16 Alpha 3 for GNU/Linux, Mac OS X, Microsoft Windows, Android, and iOS operating systems right now from Softpedia. Pleas try to keep in mind that this is a pre-release version that contains unresolved issues, which means that it is not yet ready for deployment on production environments.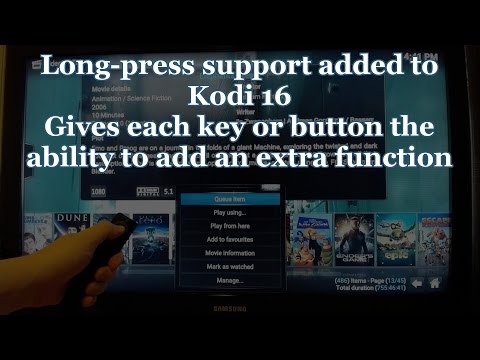 Play Video
Via Softpedia