Linux News Today: Ubuntu-Powered Erle-Spider Land Drones Now on IndieGoGo with Promotional Price
The Ubuntu-powered land drone Erle-Spider is now on IndieGoGo and its makers are trying to raise enough money for manufacturing.
There are hundreds of flying drones out there, and they are exciting, of course, but there are hardly any land drones. They are slower, and they might not seem all that interesting, at first, but they have a lot of potential, and not just for fun-related activities.
Erle-Spider can be used as a great educational tool for people who want to know more about robotics, and it's great for kids, too. The fact that you can simply use a phone to control it and that you can use and publish apps for it makes this project all the more exciting.
Erle-Spider is now available at a promotional price
The IndieGoGo campaign allows users to get one of these drones at a promotional price, and the cheapest package will actually let you build it (all the instructions are provided, of course).
"The Linux 6-legged computer, powered by Snappy Ubuntu Core, connects to a cloud-based App store backed by Canonical, allowing users to create and sell behaviours and drone applications. Computer vision algorithms, different dynamic models and sensors implementation, are some of the features currently available," reads the IndieGoGo project.
The brain of the spider is called Erle-Brain 2 and it sports some pretty hefty hardware, a 900MHz quad-core ARM Cortex-A7 processor, 1 GB RAM, USB, Ethernet, I2C, UART, and HDMI connectivity, gravity sensor, gyroscope, digital compass, pressure sensor and temperature sensor, not to mention stuff like 3G or 4G connectivity.
This kind of drones can also be helpful in disaster areas or hard to reach places, so you can imagine that the number of uses for it is unlimited.
Erle-Spider wants to raise $50,000 (€45,000) and the first units (the ones that you can build yourself), should ship by December 2015. The rest of them will be available in March 2016.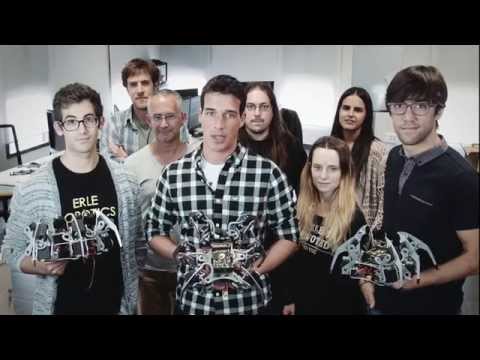 Play Video
Via Softpedia