Canonical's Łukasz Zemczak has had the great pleasure of informing all users of the BQ Aquaris E4.5 Ubuntu Edition and BQ Aquaris E5 HD Ubuntu Edition smartphones that the Ubuntu Touch OTA-6 software update has been officially released.
We reported last week that Canonical pushed the OTA-6 update only to the Nexus 4, Nexus 7, and Meizu MX4 Ubuntu Edition devices, because BQ needed specific timelines to test the Ubuntu Touch OTA-6 software update properly for its two handsets. The update will be pushed to users in phases and should arrive to all BQ owners by the end of the day.
"BQ has approved our krillin and vegetahd images, so we good to go with releasing them to our stable channel," says Łukasz Zemczak. "The contents are the same as for our last weeks release. […] All users should have the new OTA tomorrow UTC evening. Be sure to inform us of any critical issues as soon as possible."
Here's what's new in Ubuntu Touch OTA-6
As mentioned before, OTA-6 is a major update for the Ubuntu Touch operating system and includes awesome new features like Wi-Fi Hotspot, an all-new boot splash screen, custom alarm sounds, Trust Store integration for PulseAudio and the Camera app, forcing other apps to require access to the phone's audio recording functionality and camera.
Additionally, there's now a "Find in Page" option for the Web Browser app, the Oxide 1.8.4 video player adds numerous under-the-hood improvements, the visibility of the expanded indicator has been enhanced, the interface of the "high volume" warning received cosmetic changes and its behavior was made compatible with the latest EU regulations.
Ubuntu Touch OTA-6 enables audio playback for Web Apps, fixes several issues with the Facebook integration in the OS, removes non-existing APs from the AP list, addresses an issue with the support for media-hub HTTPS steams, and repairs boot and build problems with the emulator images.
Lastly, the update fixes multiple critical issues in many core components, including Unity 8, networking, telephony, and UIT (UI Toolkit). At the request of our users, we've posted below a video where we update our BQ Aquaris E4.5 Ubuntu Edition phone to Ubuntu Touch OTA-6. The first thing you'll notice after the update is the awesome new boot splash screen!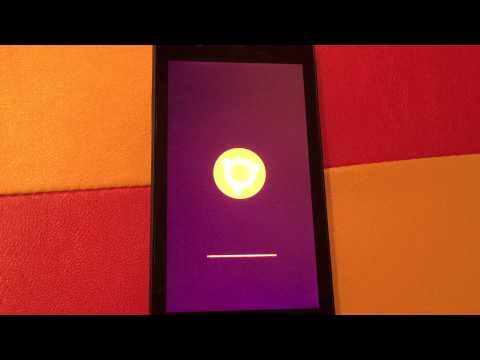 Play Video
#ubuntu phone OTA-6 released for bq E4.5 and E5. Phased updates over 24 hours. Who's first? 🙂 https://t.co/EnXoM8A2IA — Alan Pope  (@popey) September 2, 2015
Successfully over the air updated my #ubuntu phone while shopping. Thanks for letting me use your WiFi, Apple! pic.twitter.com/IkosFnWrNW — Alan Pope  (@popey) September 2, 2015