Linux News Today: Canonical Brings Full Ubuntu Convergence to Meizu PRO 5, OTA-11 Has Landed
We've just been informed by Canonical that the OTA-11 update for supported Ubuntu Phone and Ubuntu Tablet devices has landed today, June 1, 2016, as reported by us earlier in the day.
OTA-11 is the eleventh update to the Ubuntu mobile operating system that powers the Ubuntu Phone devices, including Meizu MX4, Meizu PRO 5, BQ Aquaris E4.5, and BQ Aquaris E5 HD, as well as the Ubuntu Tablet, BQ Aquaris M10, and it introduces some major new features and enhancements.
As we've already told you, the biggest new feature implemented by Canonical in today's OTA-11 update is Wireless display. The technology, which the company calls Display Cast or Aethercast (also known popularly as Miracast), is currently available only for the Meizu PRO 5 Ubuntu Edition smartphone.
"The latest Over-The-Air update (OTA) 11 is out! We've introduced wireless capabilities to the Meizu PRO 5, which gives users the full Ubuntu PC experience running from a smartphone. All the services running from the phone are available on desktop through just a wireless dongle and no cables – giving you the full Ubuntu convergence experience," notes Canonical.
Watch the Meizu PRO 5 Wireless display demo
Ubuntu Mobile Product Manager at Canonical Richard Collins has had the great pleasure of giving us a video demo of the Wireless display feature in action on the Meizu PRO 5 Ubuntu Edition smartphone using nothing but a Microsoft Wireless dongle. While Wireless display isn't available for older device in OTA-11, Canonical promises to push it out across all Ubuntu smartphones and tablets in future OTA updates.
In addition to the Wireless display feature, the OTA-11 update, which will be phased during a 24-hour period to all Ubuntu Phone and Ubuntu Tablet users, there are overall performance improvements to the BQ Aquaris M10 tablet, such as smoother scrolling for apps and Dash, and better Bluetooth connectivity when using a mouse. Update your devices to OTA-11 as soon as possible to get all these goodies now!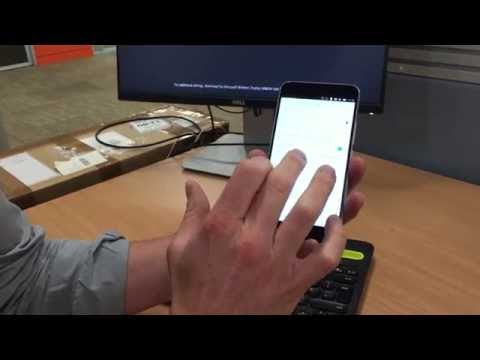 Play Video
Via Softpedia