Linux News Today: GNOME Calendar Will Support Alarms, GNOME Software to Better Handle Flatpaks
The GNOME developers are hard at work this summer to bring you the latest innovations and technologies for the modern GNOME 3 desktop environment, as part of the GNOME 3.22 release.
GNOME 3.22 is in heavy development until the end of September, when the final release will hit the streets, but it will take a while (~two or three weeks) for it to arrive in the main software repositories of some of the most popular GNU/Linux operating systems, Arch Linux being among the first, but it will worth the wait.
Why? Because with any new major GNOME release, the developers behind this great and long-standing open source project will add exciting new features. We've already told you about the revamped GNOME Control Center, which we guarantee you'll love, and now we're seeing more GNOME apps getting updated with new stuff.
Alarms are coming to GNOME Calendar
GNOME developer Georges Basile Stavracas Neto has revealed today, July 6, 2016, that he managed to implement alarms support in the GNOME Calendar app. "In another of my (apparently common) insomnia nights, I decided to add a cool new to my pet application – Calendar. Something fast enough to be done in one night, but still useful," said the developers.
We recommend watching the short video below if you want to see how alarms work in GNOME Calendar. In related news, GNOME developer Richard Hughes explains in a very lenghty article, which is a recommended reading, how the GNOME Software package manager will handle the Flatpak universal binary format differently than normal packages.
"We go to great lengths to interoperate with the flatpak command line tool, so if you install the nightly GTK3 build of GIMP per-user you can install the normal version system-wide and they both show in the installed and updates panel without conflicting," said Richard Hughes. These and many other goodies are coming in the GNOME 3.22 desktop environment this fall.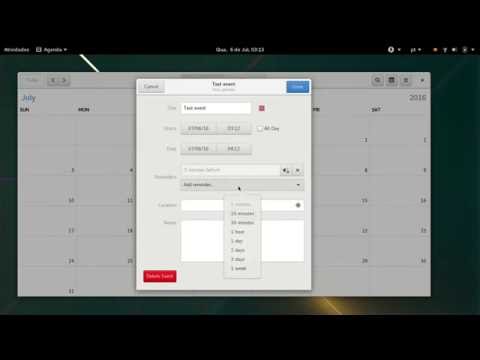 Play Video
Via Softpedia