Linux News Today: KDE Plasma 5.7 Officially Released with Great Wayland Improvements, Many Changes
Today, July 5, 2016, KDE has had the enormous pleasure of announcing the availability of the final KDE Plasma 5.7 desktop environment release.
Yes, that's right, the Beta testing phase is now over, and the final release of the highly anticipated KDE Plasma 5.7 desktop environment, which is used by default in numerous GNU/Linux operating systems, including openSUSE Leap, PCLinuxOS, Fedora, and many others, has hit the streets.
There are numerous improvements implemented in this version, most of them for the next-generation Wayland display server, which we hope will become the norm for the most prominent distros later this year, as well as various other goodies and countless bug fixes. For example, the first thing you'll notice after upgrading to KDE Plasma 5.7 is the all-new, unified login screen.
The tray area has been revamped a little, there's a new task manager with improved performance, the Oxygen and Air Plasma themes have received various enhancements, and so have the Breeze icons, which now feature a tint to match the highlight color scheme, and the Jump List Actions feature has been extended to be accessible from KRunner.
Among other changes, we can mention that the agenda view has been re-implemented in the built-in calendar, there are great improvements to the Volume Control applet, such as the ability to control the volume of each application separately or raise the volume over 100% (finally), and better support for Kiosk machines.
"Plasma 5.7 brings many corrections about enforcing such restrictions. Notably, the Application Launcher will become read-only if widgets are locked through Kiosk policies, i.e. favorites are locked in place and applications can no longer be edited. Also, the Run Command restriction will prevent KRunner from even starting in the first place," reads today's announcement.
KDE Plasma 5.7 will have five point releases
KDE Plasma 5.7.0 is now officially released, but we don't know yet when exactly it will make its way into the main software repositories of various GNU/Linux operating system, as that will depend on how fast the maintainers of the KDE Plasma packages in the respective OS are going to update them. Arch Linux users might be among first to get KDE Plasma 5.7, as usual. Of course, KDE Neon 5.7 User Edition is also available if you want to taste KDE Plasma 5.7 right now.
However, most probably, the rest of the GNU/Linux distros will wait for the first KDE Plasma 5.7 maintenance update. KDE Plasma 5.7 will have a total of five point releases, KDE Plasma 5.7.1 on July 12, KDE Plasma 5.7.2 on July 19, KDE Plasma 5.7.3 on August 3, KDE Plasma 5.7.4 on August 23, and KDE Plasma 5.7.5 on September 27, 2016.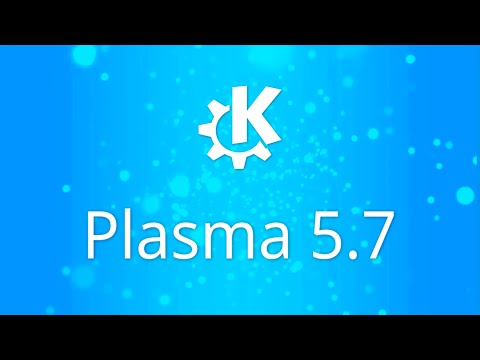 Play Video
Via Softpedia