Linux News Today: Krita 3.0 Digital Painting Software Now in Feature Freeze, Launches April 27
Scott Petrovic from the Krita Foundation has sent an email announcement to Softpedia informing us about the immediate availability of testing of the third Pre-Alpha build of the upcoming Krita 3.0 software.
As you may know or not, Krita is the best open-source and cross-platform digital paining software, available for GNU/Linux, Mac OS X, and Microsoft Windows operating systems, and the 3.0 milestone promises to be a massive one, bringing countless new features and improvements.
The development cycle of Krita 3.0 appears to go according to schedule, and the third Pre-Alpha build has been seeded earlier today, March 14, 2016, to public alpha testers and early adopters who want to help the Krita Foundation polish the new features before they arrive for everyone else to use.
"Today was an important day for the Krita project! We entered feature freeze! That means that from now on until the release of Krita 3.0, which is planned for April 27th, we won't be working on adding new features, but we'll be fixing bugs, fixing bugs and fixing more bugs," said the Krita developers in an email announcement.
Here's what's new in Krita 3.0 Pre-Alpha 3
Krita 3.0 Pre-Alpha 3 is out today for public testing, and according to the release notes, it brings a significant amount of new features, such as an improved layer docker (see the video attached at the end of the article), updated grid handling, snapping to grids and guides, two new export filters, and a gradient map filter.
Other noteworthy features include the implementation of a "Greater" blending mode, along with a "Move Increment Multipliers" function for the Move tool, and user interface improvements to the Crop, Assistant Editing, and Straight Line tools. Download Krita 3.0 Pre-Alpha 3 for GNU/Linux, Mac OS X, and Windows right now.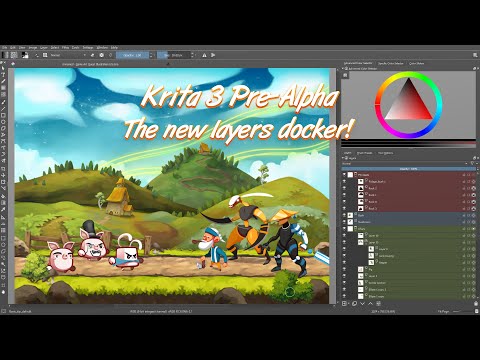 Play Video
Via Softpedia