Linux News Today: Remix OS Beta to Land on March 1 with UEFI and 32-Bit Support, More
Jide Technology, the makers of Remix OS, have just announced that the first Beta version of their operating system will be released on March 1, and it's packing a ton of new features.
Only yesterday we found out that the Remix OS and Android-x86 project have entered a partnership, and now we're hit with another major announcement. This partnership is relevant because Remix OS is based on Android-x86 and the team wouldn't have been able to make this Android for PC project.
The initial release of the Remix OS happened in the first week of January as an Alpha. As you can imagine, it wasn't the most stable iteration. The Alpha version has a lot of issues, ranging from stability to lack of features, but it's still a great initiative, and from the looks of it, a better version is already on its way.
Remix OS gains UEFI boot, 32-bit version, and much more
The features that have been requested right from the start include the ability to boot on UEFI machines and 32-bit support. The latter one is actually very important because it allows the users to install this OS on older machines or laptops with 32-bit processors.
"The new Beta version has a substantial number of bug fixes and an increase in device compatibility, as well as over-the-air (OTA) updates, 32-bit system support and dual boot support through a new hard drive installer tool. Remix OS exists to bring together the Android app ecosystem with the PC productivity features we're used to and pioneer Android PCs," the developers are saying on YouTube.
Another interesting feature that will make its debut starting with the new Beta is an installer that lets users try out the distribution in a more permanent fashion. Also, support for OTA updates will also be available, and the developers are saying that they managed to fix more than 50 major bugs.
For now you can download the latest Alpha version of Remix OS from Softpedia, but the Beta should be here on March 1.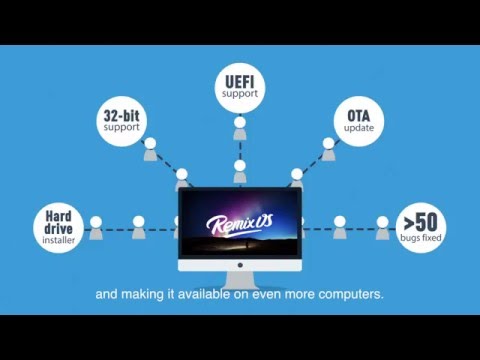 Play Video
Via Softpedia