Linux News Today: Ubuntu Budgie 16.04 Officially Released Based on Ubuntu 16.04 and Budgie Desktop
Softpedia has been informed today, April 26, 2016, by David Mohammed about the general availability of the Budgie-Remix (soon-to-become Ubuntu Budgie) 16.04 GNU/Linux operating system.
The Budgie-Remix distro has been in development for the past couple of months, and it now finally sees an official release, based on the recently launched Ubuntu 16.04 LTS (Xenial Xerus) operating system and built around the awesome Budgie desktop environment from the Solus Project.
As you may very well be aware, Budgie-Remix aims to become an official Ubuntu flavor, under the name Ubuntu Budgie, as part of the upcoming Ubuntu 16.10 (Yakkety Yak) release, which has just entered its development cycle a few days ago with daily build ISO images and October 20 as a release date.
The budgie-remix team is currently formed of David Mohammed, HEXcube, SpotTech, Ploctaux, Foggalong, and our udara-u3, and on this occasion they would like to send their thanks and appreciation to Horst3180, Ikey Doherty, Pinguy, and everyone else who helped them made a dream become reality in only two months.
[CITATION]With Mark Shuttleworth himself indicating his support for a budgie-desktop community flavour at the end of February, budgie-remix has managed to create a fully fledged Ubuntu-based distro in two months flat! We look forward working with our very enthusiastic & growing community on both Reddit and Google+ – cross fingers, we may just have enough backing to become an official flavour sooner rather than later," [/CITATION] – David Mohammed.
Ubuntu Budgie 16.10 Alpha coming in July
Now that Ubuntu Budgie 16.04 is finally out, the team prepares for the first point release, version 16.04.1, which should hit the streets in approximately three months from the moment of writing this article, based, of course, on the Ubuntu 16.04.1 LTS (Xenial Xerus) operating system.
Simultaneously, the Budgie-Remix team will being work on some of the planned new features to be incorporated into the Ubuntu Budgie 16.10 (Yakkety Yak) release, which should see a first Alpha build around July. The final release of Ubuntu Budgie 16.10, if it is accepted as an official flavor, is currently set for October 20, 2016.
Download Ubuntu Budgie 16.04 for 64-bit and 32-bit computers right now via Softpedia.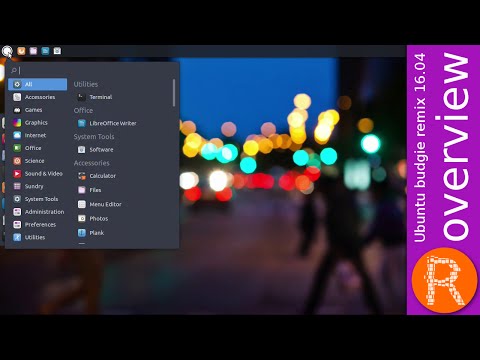 Play Video
Via Softpedia