Linux News Today: Ubuntu Budgie Remix 16.10 (Yakkety Yak) ISO Coming Soon with New LightDM Greeter
budgie-remix community coordinator and graphic designer Udara Madubhashana informs Softpedia about the latest news from the world of the GNU/Linux distribution built around the Budgie desktop environment and latest Ubuntu technologies.
According to the project's developers, a lot of things have happened since the release of budgie-remix 16.04.1 back on July, which brought full-disk encryption and support for installing Snap packages, along with all the software updates and security fixes from the Ubuntu 16.04.1 LTS (Xenial Xerus) operating system.
One of the most important components updated recently is the in-house built Budgie Welcome App, which just received user-friendlier panel resets and the ability to switch your desktop from the clean and simple Arc GTK theme to a gorgeous material design style that includes both a system theme and an icon set (check out the video below for more details).
"budgie-remix 16.04.1 has been released and we've updated a lot of different components. Most of the bugs have been resolved, but if you encounter new one, feel free to report it back. We are also launching new website, which should be ready for its debut in the following days. Optimized for both mobile and tablet clients so you can easily browse the website," says Udara Madubhashana.
budgie-screenshot-applet updated, new LightDM display manager
There were also many improvements implemented in the Budgie desktop environment, such as the addition of the nautilus-share, policy-desktop-privileges, ppa-purge, bash-completion, acpi-support, gvfs-fuse, and GNOME System Monitor packages. The budgie-screenshot-applet received some fixes as well as it should work better now.
The highly anticipated Ubuntu Budgie Remix 16.10 (Yakkety Yak) operating system is in the works now, but it looks like an ISO image is yet to be seeded to public beta testers and it will include all the latest GTK+ 3.20 and GNOME Stack 3.20 packages that landed upstream in the Ubuntu 16.10 repos, along with a new LightDM display manager you can see below.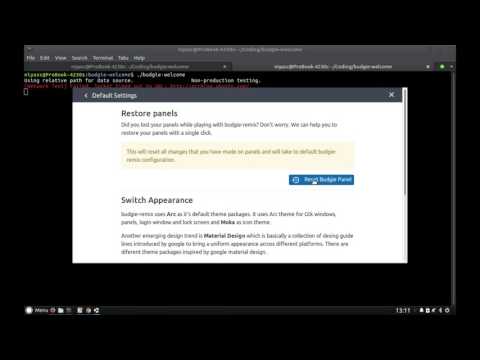 Play Video
Via Softpedia