Linux News Today: Ubuntu Snappy Core Now Officially Available for uCRobotics' Bubblegum-96 Board
Canonical, through April Wang, is pleased to announce that the Snappy Ubuntu Core operating system for embedded and IoT (Internet of Things) devices is now officially available for the Bubblegum-96 single-board computer (SBC).
Designed by uCRobotics, the Bubblegum-96 board boasts an optimized Actions' s900 Quad-core ARM 64-bit Cortex-A53 processor running at 1.8GHz with a PowerVR G6230 high-quality graphics card operating at 600MHz, 2GB of DRAM, and USB 3.0 support.
uCRobotics' Bubblegum-96 SBC is one of the most powerful commercial editions from the Linaro 96Boards series and also the third Linaro single-board computer to support the Snappy Ubuntu Core operating system out of the box, a stripped-down version of the popular Ubuntu Linux designed for autonomous machines.
"Canonical along with Actions and uCRobotics have been working together and created the first beta image of Ubuntu Core for Bubblegum-96. This offers device manufacturers a great open platform for their application and Internet of Things (IoT) devices," says April Wang in the press announcement.
Beta image out now for public testing
A first Beta image of the Snappy Ubuntu Core operating system for uCRobotics' Bubblegum-96 board is now available for download. Device makers who use Bubblegum-96 to power their unique projects can now install the Ubuntu OS, which offers them a high level of security with transactional updates.
Snappy Ubuntu Core is known to have a small footprint too, and it is the ideal platform to deploy a large fleet of Internet of Things devices. If you're not convinced, you can see Ubuntu Snappy Core in action on the Bubblegum-96 board by watching the showcase video below, which was shot during the recent Computex Taipei event.
IoT application developers are also invited to visit the Ubuntu app store and the snapcraft.io web page to see if they find any useful apps to try on the Bubblegum-96 board, as well as start developing their own set of apps and Snaps for the Ubuntu Snappy Core operating system, which anyone can use on other supported devices.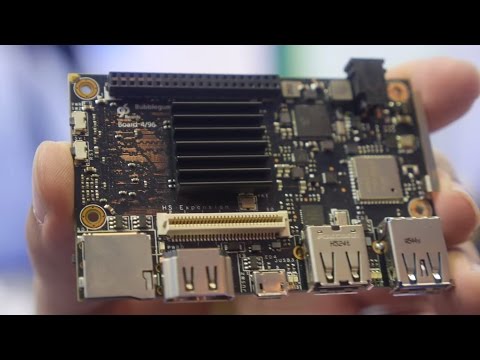 Play Video
Via Softpedia