Linux News Today: Watch: Mycroft AI Running on Ubuntu GNOME 16.04 LTS (Xenial Xerus) Linux OS
Developer Aditya Mehra launched a couple of days ago an extension for the GNOME Shell user interface of the acclaimed GNOME desktop environment so that you can interact with Mycroft AI.
For those behind on their Mycroft AI reading, we can inform you that Mycroft is an upcoming device that can stay connected to your house, acting like a virtual artificial intelligence. As expected, Mycroft AI is a tiny computer powered by a Raspberry Pi 2 SBC and using the Snappy Ubuntu Core operating system.
However, Mycroft AI is also available for the Linux desktop, so Google+ user Christopher Goulet has tried the latest Mycroft Artificial Intelligence platform, the Mycroft AI Core, along with the new GNOME Shell extension on his Ubuntu GNOME 16.04 LTS (Xenial Xerus) Linux operating system, reporting that everything runs quite well.
You can see Mycroft AI running on a GNU/Linux desktop in the video below, but you can also try it yourself by attempting to follow the official instructions on how to install the Mycroft AI Core on your operating system, as well as the GNOME Shell extension, that if you use the GNOME desktop environment.
In the near future, we should see support for the Mycroft AI on other desktop environments, such as Unity, KDE Plasma, or Budgie. Until then, please get familiar with Mycroft AI by visiting the project's website, where you can pre-order one of the tiny computers for your home. The future is here, the future is now!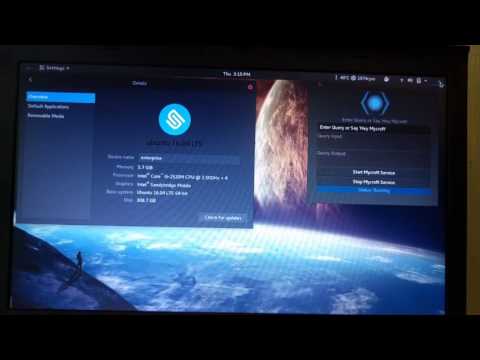 Play Video
Via Softpedia