Linux News Today: Watch: Robot Powered by Snappy Ubuntu Core Plays Football at MWC 2016
The Mobile World Congress 2016 in Barcelona is not only about IoT, Ubuntu Touch or the cloud for Canonical. It's also about a small little robot powered by Snappy Ubuntu Core that seems to be gathering a lot of attention.
Robots powered with the help of Ubuntu Core have been around for some time, but none of them had a vaguely humanoid form. Now someone built or adapted a small robot to use Snappy Ubuntu Core and let it loose at the Mobile World Congress in Barcelona.
We're used to thinking about Ubuntu as an operating system for precise things, like PC, servers, laptops, and so on, but the truth is that it can do much more. Canonical's goal is to have Ubuntu power pretty much anything that can run an OS and it's doing a rather good job in this direction.
Powered by Snappy Ubuntu Core
This tiny robot that you see in the video below is the perfect example of an IoT device that doesn't really serve a precise purpose, but it's connected online, and it's powered by an operating system, in this case, Ubuntu.
I couldn't find who actually built it, but he's able to track the ball with the help of an application that was installed with the help of Ubuntu Core.
"Robot built with Ubuntu Core as its heart. Using snappy, it's got a few apps running that help track an object (the red ball) and play soccer! Also, programmed to take a dive when needed," Ubuntu developer Marco Ceppi explained on Google+.
This is just a taste of things to come. Both the IoT industry and Snappy Ubuntu Core are young, and they have just started on a very interesting path. It's not clear what will happen with all the IoT craze that's being going on lately, but Ubuntu is definitely a part of it.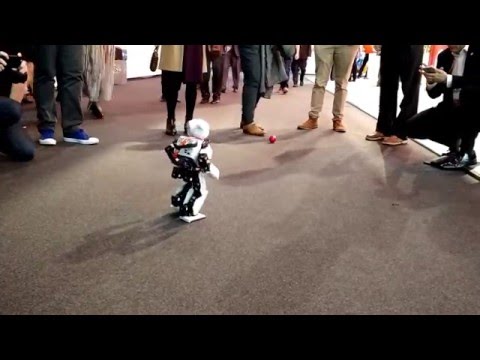 Play Video
Via Softpedia